New Localities for the Introduced Anolis wattsi (Squamata: Dactyloidae) on Trinidad, West Indies
The island of Trinidad in the Caribbean currently has one native Anolis lizard: Anolis planiceps Troschel 1848, a second suspected native species: Anolis tigrinus Peters 1863, and has had at least five introduced ones: Anolis aeneus, Anolis extremus, Anolis sagrei, Anolis trinitatis and Anolis wattsi (Murphy et al. 2017). The latter, Anolis wattsi (Boulenger 1894, Watt's Anole) (Fig. 1) is native to Antigua and is also distributed across Anguilla, St. Eustatius, St. Lucia, St. Martin, and Trinidad (Schwartz and Henderson 1991; White and Hailey 2006). Watt's Anoles spend much of their time on the ground and on the lower end of trees, and are typically active in the early morning when the temperature is cooler. They grow to about 58 mm snout to vent length. On Trinidad, individuals were first discovered in 1992 by G. White at the Caroni Research Station at Waterloo (Boos 1996). Field surveys conducted in 2000 and 2004 (White and Hailey 2006) showed the species to be spreading over an area of about 75 square km in west-central Trinidad. This report documents new localities for A. wattsi in southwest, northwest, and north-central Trinidad subsequent to the 2000 and 2004 surveys.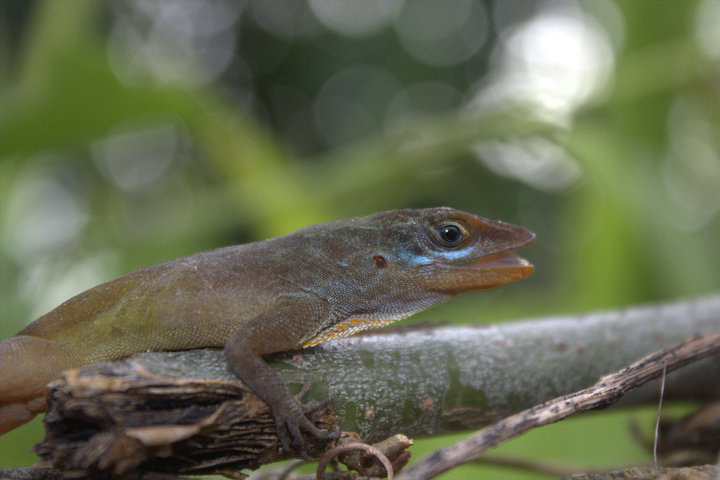 Fig. 1. Adult Male Anolis wattsi. Photo by A. Fifi.
Watt's Anoles were observed at Reform Village, roughly 5 km east of San Fernando in 2009 (A. Hailey, personal communication). In 2014, A. Fifi observed a male and female individual near the University of Trinidad and Tobago building in Chaguaramas, and in 2015, individuals were observed at the seaward side of West Shore Hospital and the southern side of Wrightson Road at the junction of French Street and Wrightson Road, Port of Spain (H. Boos, personal communication). Also, in 2015, AF saw two adult pairs at the O'Meara Industrial Estate, in Arima. An adult was collected and catalogued at the University of the West Indies Zoology Museum St. Augustine Campus, Trinidad and Tobago (UWIZM.2016.4). Finally in 2017, R.J. Auguste saw a single individual at the University of the West Indies St. Augustine campus near cocoa trees in the leaf litter.
The new localities for A. wattsi are within urban developed areas, as previously documented by White and Hailey (2006). It is likely that the movement of these lizards is facilitated by human transportation. Competition with the native species (A. planiceps) is currently unlikely, as that species is restricted to forested areas in Trinidad (Murphy 1997; Murphy et al. 2017). However, it will be important to keep track of the distribution of A. wattsi in Trinidad, as White and Hailey (2006) suggested that it would be interesting to track the outward spread from its first known established location on the island.
ACKNOWLEDGEMENTS
The authors would like to thank Graham White for comments on the manuscript, and Hans Boos and Adrian Hailey for sharing their observations.
REFERENCES
Boos, H.E.A. 1996. Some recent reptilian introductions to Trinidad. Living World, Journal of the Trinidad and Tobago Field Naturalists' Club, 1995-1996: 17-19.
Murphy, J.C. 1997. Amphibians and Reptiles of Trinidad and Tobago. Malabar, Florida: Krieger Publishing. 245 p.
Murphy, J.C., Downie, J.R., Smith, J.M., Livingstone, S.R., Mohammed, R.S., Lehtinen, R.M., Eyre, M., Sewlal, J., Noriega, N., Caspar, G.S, Rutherford, M.G. and Auguste, R.J.2017. A field guide to the amphibians and reptiles of Trinidad and Tobago. Trinidad and Tobago Field Naturalists' Club. 300p.
Schwartz, A. and Henderson, R.W. 1991. Amphibians and Reptiles of the West Indies. University of Florida Press, Gainesville. 720 p.
White, G.L. and Hailey, A. 2006. The establishment of Anolis wattsi as a naturalized exotic lizard in Trinidad. Applied Herpetology, 3: 11-26.
Adam Fifi
adam.fifi@yahoo.com
Renoir J. Auguste
renguste@gmail.com