Bamboo flowers - Tobago wonder
By DAN JAGGERNATH,
Member of T&T Field Naturalists' Club
CONDUCTING environment research, after work in Tobago, can be hectic. but most rewarding. Passing on the Windward side of the island, breathtaking vistas greet everyone. After many cautious steps, up a stony crystal clear river, the "amazing phenomenon' of the "flowering bamboo" unfolded itself in all its glory.
A doctor, a teacher and a member of the "Cadet Force' looked on in great amazement, as I showed them the bamboo flowers, seeing it for the first time in their life. It is an uncommon sight, and some of the older folks say, the "flowering bamboo" occurs every thirty (30) years. An old hunter said. the "first and last' time he saw bamboo flowers was around 1971, "but did not take it on seriously " He indicated there were other 'bamboo patches' about 30 years old, but only a separate bamboo patch" bore flowers, and began drying up and falling apart.
Bamboo serves many useful purposes in the world today. In Trinidad and Tobago it is widely used in the Construction Industry for support when casting the concrete decking of houses and other buildings. Bamboo is also used extensively in the making of baskets and furniture. The outer layers of the bamboo are stripped off in thin long lengths and dried before weaving together. Products made from bamboo are used in the local and foreign market.
Caution must also be exercised when handling bamboo. as the culmiferous sheaths of the bamboo do have some fine hairs which can irritate sensitive skin. Bamboo strips can also give a razor sharp cut with burning sensation.
In the country side, in many places bamboo fences keep the rustic appearance alive. Bamboo is also used in the Handicraft Industry. Many of our shops in Trinidad and Tobago are well-stocked with souvenirs made from bamboo, thus creating employment for the youths. Bamboo is also used as a musical instrument (Flute) giving sweet music to the soul. It's also used for making paper. Bamboo is a tool. for man to acquire food, "crab-traps" (Bon Accord mangrove). Learn how to use a bamboo fishing-rod and you could eat fish for the rest of your life, so important is bamboo to us.
The young shoots from the bamboo are edible, a good source of vegetable food when curried or stewed. In some countries, they are canned and exported as food-stuff . Bamboo is sometimes referred to by students and teachers as the "giant grass". It is from the same family Gramineae. The flowering bamboo in Goldsborough Tobago is "Bambusa Vulgaris". Some other varieties are Bambusa Multiplex, Arthrostylydium, Bambusa guadua, Varigeated bamboo.
Young bamboo has a rapid growth emerging subterraneously. The rhizome produces roots and pushes the shoots up to the earth's surface. It reaches a mature state (stage) in approximately three months time. Some healthy clusters can reach up to 15 metres in height. Bamboo planted along roadways prevents soil erosion, cavelands and landslips. This method had widely been used in both islands to help save costs for road maintenance.
There are few (grass, plant, or tree) in the world today, with so many varied uses as bamboo. No wonder why, it is considered "very sacred". In Trinidad and Tobago it is used by the Baptists and the Hindus for religious purposes They tie a flag of various colours, at the top of the bamboo and implant it firmly in the ground completing their religious ceremonies. However, though we know of its great uses and value to us, bamboo has been treated with "scant respect" in both islands.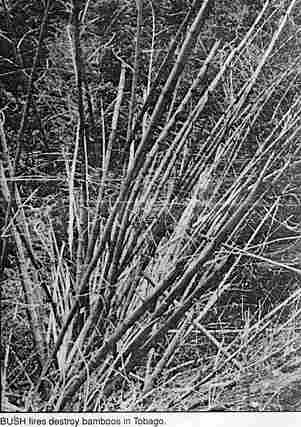 Earlier in the dry season this year, in Tobago, evidence of extensive bush fires ravaged many parts of the island. One Forestry official told me that all the bush fires were caused by human beings and no "external forces' are to be blamed. The stark reality is, there is a price to pay for this type of action. When the heavy rains came. erosion look place on both Northside and windward side roads. Large boulders and pieces of rock rolled on to the roadway, almost causing a tragedy when two vehicles, came along, all because; of the bush fires.

This "dam nonsense" must stop. Bamboo is sacred. The world loves bamboo, why not Trinbagonians. The dry season will soon come again and we hope the people of Tobago, will take cognizance of their mistakes in the past and prevent bush fires in the future. Bamboo must be protected and bush fires must be stopped. God will not prevent bush fires for you, so you have to prevent it for yourselves. It is an unhealthy practice and devastates myriad of living things, both plant and wild life.
God always wanted Tobago to remain pristine, and we hope that politicians, statesmen and ordinary people, do everything possible within their power to keep the island in its natural state and free from environmental degradation, all for the benefit and enjoyment of visitors and the present and future generations
Stay peaceful Tobago, 1 love you!
Originally published in the Tobago News, December 14, 2001