Donkey's Eyes, Junonia spp. (Lepidoptera, Nymphalidae), in Trinidad and Tobago
Keywords:
Junonia zonalis, Junonia genoveva, Junonia litoralis, Ruellia tuberosa, Avicennia germinans
Abstract
There are two common species of Junonia in Trinidad and Tobago, which have been confused together under the local
name 'donkey's eye': J. zonalis C. Felder and R. Felder and J. genoveva genoveva (Cramer). There is also a local, mangrove-
feeding species, J. litoralis Brévignon, found in Trinidad but not reported from Tobago. Characters are presented to
facilitate identification of adults in the field and from images.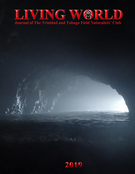 Downloads