Hypercompe trinitatis (Lepidoptera, Erebidae, Arctiinae) and its Caterpillar in Trinidad, W.I.
Keywords:
Arctiini, chilli pepper, pak choi, cocoa, Hypercompe cunigunda, DNA barcode, BOLD:AAA1342
Abstract
We document the polyphagous minor pest caterpillar of Hypercompe trinitatis (Rothschild) from Trinidad. This is presented
in the context of an analysis of the literature and museum specimens to document the history, taxonomy, variability and
distribution of this species in Trinidad and Tobago. Notes on identification are provided in comparison with H. cunigunda
(Stoll), the only other species of the genus known from Trinidad, here newly recorded for the island; images of pinned
adults are provided for both. CO1 DNA barcodes were obtained for two Trinidad specimens of H. trinitatis. Comparison with
sequences in the Barcode of Life Database (BOLD) shows that H. trinitatis forms part of a species complex (or perhaps a
complex species) which can be referred to as BIN (Barcode Identification Number) BOLD:AAA1342.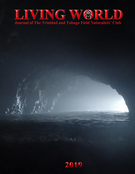 Downloads