Report on Sightings of the Potential Invasive Species Ophiothela mirabilis (Echinodermata, Ophiuroidea) in Tobago, W.I.
Abstract
Ophiuroids (brittle stars) are evolutionarily adapted to thrive in marine habitats. The identified epizoic brittle star Ophiothela cf.
mirabilis (Verrill, 1867) originated in the eastern Pacific where it densely inhabits its hosts (Araújo et al. (2018). Observations of the yellow-orange morphotype of O. mirabilis as documented by Araújo et al. (2018) were recorded during Reef Check belt transect and roving underwater turtle surveys from July 2016 to January 2018.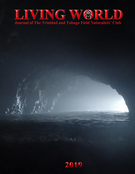 Downloads