Authors: Geoffrey Gomes and Fiona Reid
The Bats of Trinidad and Tobago is comprehensive guide to the bat species found in Trinidad and Tobago. In addition to species identification guides, this book also provides details on the status, ecology and cultural significance of bats locally.
This is a 286 page softcover book measuring 5.47″ x 8.5″.
TTFNC publications are available at the following bookstores:
Ishmael M Khan & Sons Ltd

Metropolitan Book Suppliers Ltd

R I K Services Ltd
The Book Specialists
Paper Based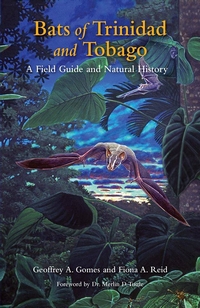 Some International Reviews
"Bats of Trinidad and Tobago is one of the finest books thus far published about bats. It is throughly researched, provides comprehensive coverage of one of the world's richestbat faunas, and is outstandingly illustrated."—Dr. Merlin D. Tuttle: Founder of Bat Conservation International (Texas, U.S.A.)
"Unquestionably authoritative. It (Bats of Trinidad and Tobago) is a 'Last Word.' Last Word books not only deal with the taxonomy, physiology and ethology of their subject, but its archeological,mythological, and culture-physical aspects as well. Last Word books are rare is my experience, but real treasures when one finds them."—Sir David Attenborough (BBC Wildlife Presenter, United Kingdom)
"What distinguishes this publication from others in the genre are Geoffrey Gomes and Fiona Reid's ability to break out of the formulaic field guide mold by balancing typical species accounts with an equally engaging presentation of the ecology of bats and their significance to people. Another nice aspect is the frequent references to local examples that give the book a truly Trinidadian and Tobagonian flavour. Where else would we learn about the tradition of "Authentic Bats" and "Fancy Bats" in mas bands during Carnival?"—Dr. Burton K. Lim (Department of Natural History, Royal Ontario Museum, Canada)