January
With the start of the new year, the TTFNC's first order of business was its Annual General Meeting. The management committee for 2017 was elected as follows:
President: Darshan Narang
Vice President: Palaash Narase
Secretary: Amy Deacon
Asst. Secretary: Renoir Auguste
Committee Members: Dan Jaggernauth, Danielle Morong and Kris Sookdeo
Homad Waterfall in Grand Riviere was the destination for the first club trip of the year. The Northern Range had been wracked by inclement weather over the previous weeks and the signs were visible at Homad with mangled trees littering the area around the falls.
The birders also started the year on a high when they decided to visit Mount St. Benedict. The highlight of the trip was a Blue-tailed Emerald hummingbird, a rare find outside of the NW peninsula.
The club also took some time off in January to host a display at the STEM Science Fair at the NESC, Couva.
February
Our first lecture of the year really raised the bar when Diva Amon presented on the Deep Sea Biology of Trinidad, drawing what was quite possibly the largest turnout at a general meeting. Diva's fascinating lecture is available on our YouTube channel's "Lecture Series".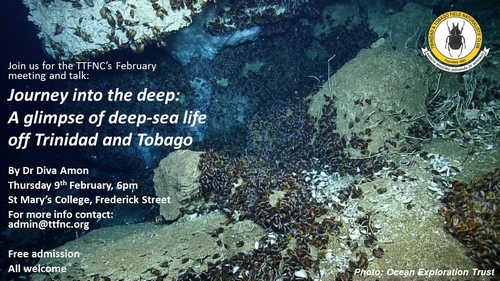 Icacos was the target for the club trip in February. Members visited the old World War 2 bunkers before the main goal, which was the mud volcano at Bonasse. The volcano is unique in that it actually sits within the compound of a temple and forms part of the temple's activities.
February found the birders heading to Gran Couva where they stalked the cocoa fields and secondary forest in search of birdlife.
Members of the TTFNC Herp Group along with several guests took a slow wet walk along the Morne Bleu ridge from the TSTT station. It was a quiet night with only a few frogs calling and the wind and rain increased as the night progressed. However, there were many invertebrates to be found including some of the largest beetles in the world and close relative of the beetle on the Club logo.
March
The Aripo Savannas Scientific Reserve was the focus of March's lecture when Lisa James spoke about both the area's biodiversity and its conservation. Also present were members of Sundew Tours who spoke about their history and their activities in the savanna.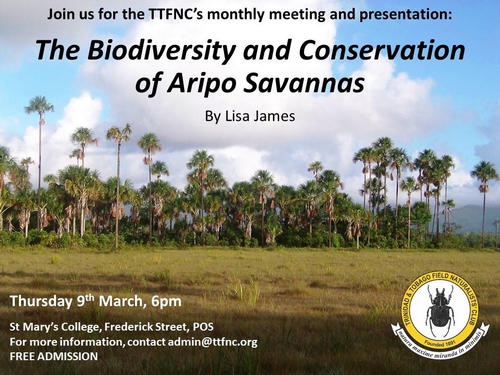 After visiting La Foret in 2016, members of the club vowed to return for a night. And so they did in March, allowing members to enjoy the scenery and attractions of the area at leisure.
The club hosted a small biodiversity display at St. Anthony's College for their Earth Day celebration.
Finally, always on the move, the birders overnighted at Brasso Seco for their March trip to round off the first quarter of 2017.